Page dedicated to commissioned miniature painting.
Get a free quote: studio@madfly-art.com
Commission process explained: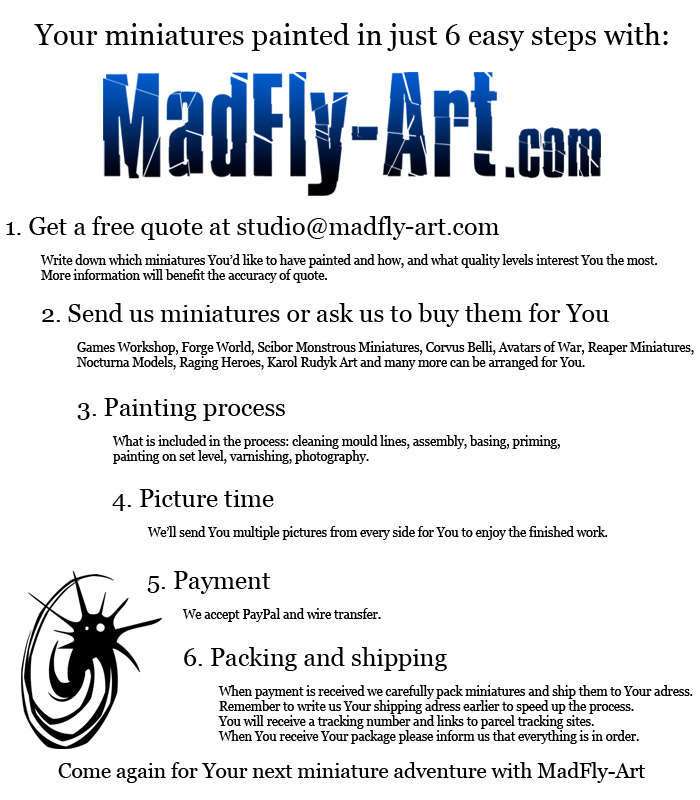 There are many levels of painting quality currently available:
Table2, Table3
Pro4, Pro5
Masters6, Masters7
Showcase8
FAQ:
What is the cost of painting?
You'll have to get a quote form us at: studio@madfly-art.com, with a best offer including all available discounts.
What is included in a cost?
Everything except for a miniatures and shipping. Cleaning, assembly, priming, basing, painting, varnishing, taking pictures, packing.
Will the miniatures be hand-painted or just airbrushed?
Every miniature on levels Pro+ will be hand-painted. Airbrush is used merely as an undercoating and varnishing tool. Rarely as a basecoating tool. Airbrush may be used occasionally on Table levels.
Will You buy miniatures for me?
We can buy: Games Workshop (all systems, including mail-order and Forge World), Infinity, Reaper Miniatures, Avatars of War, Ogniem i Mieczem and Scibor Monstrous Miniatures products for You at their retail price. Others (like Hasselfree Miniatures) should be ordered and shipped at our adress by the customer.
We work on expanding our sources so please contact us and we'll see what we can do for You.
Is there a minimal order size or value?
No, there is no minimal order size. You can send us a single miniature or a whole army.
How much time do You need for painting?
As for a turnover the minimal time is one week for a single hero or small squads. More for bigger orders.
I have a lot of assembled miniatures, can I send them for painting?
Certainly, when You send us miniatures they don't have to be new nor unpainted. The more undamaged the models the better the results.
Will You take a work-in-progress pictures?
No, they are too time consuming.
Will You paint to My custom specification?
Of course. Anything You want.
Will You paint a unit to match my existing army's scheme?
Of course, just send us some good quality photos.
Can I add a scenic wooden plinth to my painting order?
Yes, You can combine products from MadFly-Bases to give some extra detail to Your heroes and other miniatures. Everything will be sent as one package.
Do I get to see the painted miniatures before I pay?
Certainly, we send pictures of a finished project, only then You pay for it. If You want to make some small changes You can on levels: Pro and higher.
Can I combine different levels within one unit?
Yes, You can have for example: 7 models on Pro4-level and 3 command models on Masters6-level.
Do You require any downpayment?
For painting, no. Only if You want us to buy miniatures for You, in which case we need a full downpayment only for miniatures.
Will I be notified of a status change?
Yes, from time to time we'll send an update on what is the current status of Your order in percentage of completion.
Will You do conversions?
Small conversions and swaps, yes. We do not sculpt. (We'll work on this in the near future)
Will You do freehands (small hand painted pictures on banners or shoulder pads)?
Not at the moment. (We'll work on this in the near future)
What about the leftover bits and parts?
As a rule we keep them, but upon request we can ship them back with the package.
Can I return painted miniature?
No, there is no option to return a commissioned miniature after accepting it's pictures or bought through eBay auctions.
I want You to order miniatures for me, which producers can You order?
Games Workshop: Warhammer 40,000, Warhammer Age of Sigmar, Hobbit
Forge World
Corvus Belli: Infinity
Scibor Monstrous Miniatures
Nocturna Models
Raging Heroes
Knight Models
Avatars of War
Reaper Miniatures
Guild of Harmony
Wargame Exclusive
Grim Skull
Titan-Forge
Karol Rudyk Art
Enigma Miniatures
Kaha Miniatures
Hawk Wargames: Dropzone Commander
more soon…